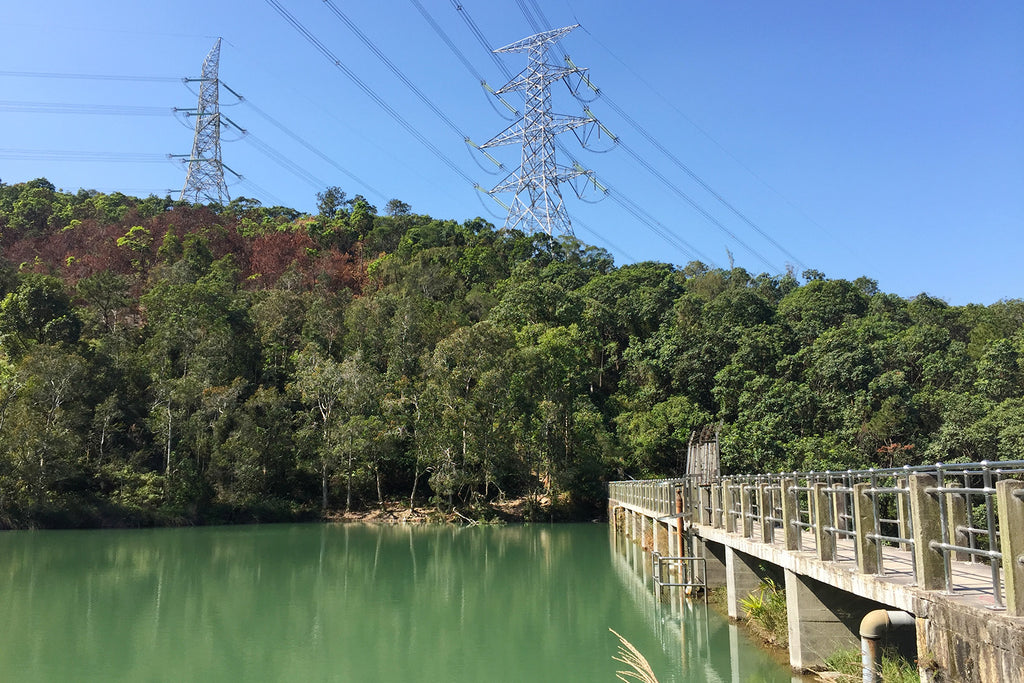 "Fantasy is always beautiful, just like the fleeting image of a rainbow after the rain. People marvel every time they see a rainbow as to them it represents luck, beauty and good."
 「幻想永遠是美好的,就正如彩虹明明只是雨後的景像,一瞬即逝,但人們每次看到都會驚嘆不已,認為它代表幸運與美好。」
Rainbow stairs, rainbow walls... All in all, the word "rainbow" attracts a lot of attention especially among teenage girls. I've always been a fan of natural beauty and not interested in these cute things at all. However, I can't deny that the first time I saw the rainbow railings, I gasped.
彩虹樓梯、彩虹牆...總之有「彩虹」二字,就會吸引大量少女心爆發的女士到來。一直崇尚自然美的好,原本對這些一點興趣都沒有,但我不否認,第一下看見這排彩虹欄杆,我嘩出聲了。
The rainbow railings are located in Tuen Mun town centre. It takes just five minutes to reach the entrance of the hiking trail from Tuen Mun Station. There is a clear sign on the ground floor "To Country Park". The first part of the trail is mostly stairs which must have scared many. A tip for climbing stairs, don't walk like a granny and hunch your back! Don't be afraid to see the stairs in front of you. Instead, look back from time to time and you will find that you have come a long way as the scenery opens. Try focusing on what is gained, rather than what is behind. This is something my hiking senior taught me.
這條彩虹欄杆位於屯門市中心,在屯門站出發,只需五分鐘便到達登山入口,地下有明確寫著「往郊野公園」,沿著黃色欄杆一直向上走,起初的路段大多是樓梯,大家一定嚇怕了。推薦一個爬樓梯的小技巧,千萬不要像老婆婆般愈走愈駝背,不要害怕看見前面的梯級,反而要不時回望,就會發現自己已經走了很多,風景都漸漸開揚,嘗試把重心放在得到的,而不是失去的,是登山教會我的事。
In about 15 minutes you come across a sign for Tai Lam Country Park and continue towards Tuen Mun Path. Tuen Mun Trail is a good walk. The stairs and stone steps are intact, making it an ideal morning trail for the whole family. There are several morning walk facilities set up by residents and a district flag from somewhere. I was almost misled when I saw a main crossing. The handwritten road sign says "Lam Tei Reservoir" which is the destination of today's journey. If you take this side up the hill, you won't get to the rainbow railings, so don't turn right. There were plenty of pavilions and chairs to rest but I couldn't stop but continued because the rainbow I wanted to see was just ahead!
大概15分鐘就會見到大欖郊野公園的指示牌,繼續向屯門徑走,屯門徑很好走,樓梯及石級完整,是不錯的晨運家樂徑,所以途中有不少居民搭建的晨運設施,還有一支不知哪來的區旗。走了一會兒會看到重要分差口,我都差點被誤導了。手寫路寫著往「藍地水塘」,亦是今天旅程的終點,但如果走這邊上山,就去不了彩虹欄杆,所以千萬不要轉右,要靠直行在主徑。途中雖有不少涼亭椅子可休息,但我急不及待加快腳步,因為彩虹就在前方了!
Red, orange, green, blue and purple - the 200-metre-long rainbow railings were erected along the hillside, with a view of the city of Tuen Mun and the hills in contrast.  Over there are difficult hiking routes to Yuen Tau Shan, Castle Peak and Por Lo Shan. Standing here, I felt like a child looking up at an adult, watching from afar but not stepping foot. I made a mental note to visit them all. If this place was just a pile of grey and dull railings, its charm would be lost. There are many colours in nature that are not as attractive as the artificial ones. But if you want more people to fall in love with hiking and promote nature, the right kind of packaging is a realistic and practical consideration.
紅橙黃綠青藍紫~一條依山而建,任長約200米的彩虹欄杆出現了,開揚的屯門市景盡入眼簾,還有連綿都山作對影,那試都是高難度登山路線,如圓頭山、青山和菠蘿山等。站在這邊的我,好像小朋友仰望大人,可遠觀而未踏足,心裡默默記下清單要一一到訪。如果這裡只是灰色沉沉的欄杆,它的魅力定然失色。大自然中有很多顏色,往往都不及人工的東西來得吸晴。但如果想更多人愛上登山,推廣大自然,適當的包裝是現實成熟的考慮。
After taking a few photos, I continued my way. After a few steps, the open and unobstructed view turned into a Japanese-inspired bamboo path lined with pine trees over 10 metres high. You can't help but stop to admire. There is something magical about this simple Tuen Mun trail that makes the short walk fascinating and enjoyable.
拍了幾張照片就繼續起行,走了幾步後,剛才開揚無死角的景像瞬間變成日式竹林道,兩旁都是10多米高的松樹,聽著流水聲經過一條小木橋,又情不自禁停下腳步觀賞。這條簡單的屯門徑有著什麼魔力,讓短線的路程好像一直走不完,都樂在其中。
A little further on is Yeuk Mung Yuen with a poetic name and an intriguing story. It was built by a group of hikers decades ago and was once manned every day offering soup and water for visitors to drink for free. The idea was to provide a place for passers-by to take a break. An old man with a white beard would leave a pen and a notebook here for people to write poems. He was known as "Mr Che". However, the group of middle-aged men who were so enthusiastic back then are now grey-haired folks who have difficulty climbing up the mountain. Some have even passed away. Yeuk Mung Yung is now deserted but there is still a sense of calm and healing here. Many criticise this as illegally occupying land but I think that everything should be left as it was. A trail without people is like a trail without life and stories.
再往前走就是「若夢園」,充滿幻想的名字有著耐人尋味的故事。這裡是由一班行山人士在數十年前自發搭建,更曾經每天都有人駐守,定時煲湯煲水予遊人免費飲用,他們「出錢更出力」,只志在為行經此地的過客提供地方「抖一抖」。曾經有短很有文學氣息的連姓的山友,蓄一把白鬍鬚會放枝筆及簿在這,讓人們寫詩,大家都叫他「車公子」。然而,當年那群一腔熱血的中年人,現都白髮蒼蒼,不便上山,有些已仙遊,現在的「若夢園」已荒廢,但仍有種凌靜的治愈感。有不少人批評這是非法霸佔地方,我卻認為所有東西適可而止即可,沒有人的山徑就像沒了生命及故事。
After passing Yeuk Mung Yuen, you come to the Pavilion of Eight Directions. Follow the stairs up a long hill. It takes about 15 minutes to reach the highest point, where there is a pavilion to rest. The only thing that remains unchanged is that there is still a hilly trail underneath us, and it is a comfortable walk up the hill. After walking for about 30 minutes, we passed through the barbecue site in Fu Tei and followed the wide road down to the right. At the end of the trail, there is a sign saying, "Fu Tei Village" and a staircase leading down to Nam Tei Reservoir.
過了「若夢園」就到八方亭,之後沿樓梯一直上山,樓梯都頗長。大約15分鐘來到了最高處,有一個涼亭可休息。不知不覺間已經跨過山頭到另一面,面前不在是高樓大廈,而是深山幽谷,唯一不變的就是腳下仍是豪草山徑,還要上山舒服得很。大約走多30分鐘,穿過虎地燒烤場,右沿寬闊的馬路一直向下行,來到了盡頭,有一個牌子寫着「虎地村」,旁邊有一條樓梯,下行就是藍地水塘了。
Lam Tei Reservoir, also known as Tiger Hang Reservoir, is an irrigation reservoir in Hong Kong. The reservoir was opened in 1957 by Governor Grantham. I like to walk on the bridge and look towards Kau Keng Shan, where the strong and upright mountains look like a guardian beside the calm and mirror-like reservoir. The bridge is shallow and narrow. Do not block the road to take photos or ignore other climbers!
藍地水塘又名老虎坑水塘,是香港灌溉水塘之一。水塘於1957年由當時港督葛量洪揭幕啟用。我最喜歡走在橋上,向九徑山方向望,掘強又正氣得白千層拙壯於平靜如鏡的水塘旁,顯得像守護者。
橋的空間淺窄,大家不要霸路拍照不理會其他登峽士啊~
After visiting Lam Tei Reservoir, I pass Lam Tei Street. There are many authentic tea rooms to observe the daily lives of the local people in Tuen Mun. As a Tseung Kwan O resident, Tuen Mun is a long distance away but the delights you get here are worth coming back for.
參觀完藍地水塘可順便到藍地大街,有不少地道茶室,觀察屯門人的日常起居。作為將軍澳人,屯門真的是大長征,到這裡的驚喜值得我們一來再來。